Park Setup Process & Guidelines
How to add Bounce Houses to a Park Rental 
Including a bounce house with your park reservation can be confusing. Depending on what park you choose, you may or may not need to pay additional fees to the park district, get a special permit, and/or provide proof of insurance. 
At Jump 4 Joy Portland, all of our inflatables are insured and we are happy to extend our insurance provider's coverage to your event for a $35 fee.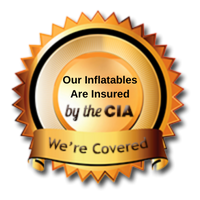 Steps to Adding Secondary Insurance Coverage to Your Event Permit
Get forms from your park district – If you haven't already, get in contact with your county's park district for the appropriate event permit forms for bounce house rentals. You may be required to pay a fee to reserve your park space.
Insurance Requirements – Depending on your county, our company may need to show proof of insurance and/or sign documents for your event.
Get in Contact With Us – Create a quote and contact us by phone or email to finalize your bounce house rental and park rental documents.
Document Signing & Proof of Insurance – We can get your documents signed and returned within 1-2 days, including weekends, but proof of insurance will take 1-2 business days.
Contact Your Park District
Multnomah County | Mon. – Fri.| 8am – 5pm | Park Finder
Phone: (503) 823-2525 | Email: CSCPermits@portlandoregon.gov
Clark County | Mon. – Fri. | 8am – 5pm
Phone: (360) 487-8330 | Email: Sean.Douglas@cityofvancouver.us 
Clackamas County | Mon. – Fri. | 7:30am – 5pm
Phone: (503) 742-4414 | Email: parksinfo@clackamas.us